2010 National Specialty - Oconomowoc, WI
50th Anniversary - Vizsla Club of America
BrazenRock Vizslas made their mark in Oconomowoc, setting the bar high for our future litters.
Our sincere gratitude goes to Judges Marjorie Martorella, Sue Shore and Mareth Kipp for recognizing our dogs among such large, qualified entries.
We congratulate and thank Jenna Iacobellis for her role in the many successes we've enjoyed this year. What a ride!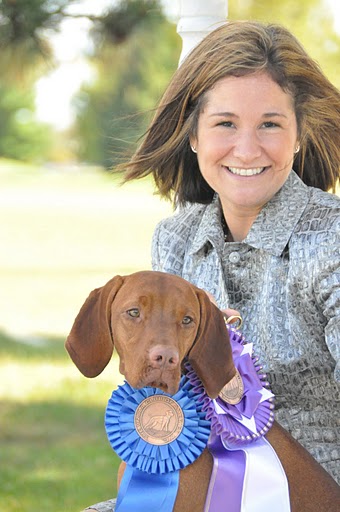 Jenna Iacobellis with Libby
BrazenRock Who's That Girl - LIBBY
1st Place 9-12 Mos Sweeps-BEST PUPPY in SWEEPSTAKES 1st Regular 9-12 Mos Class-RESERVE WINNERS BITCH
Owners: Fred & Linda Hachtel, Jenna Iacobellis, Dianne Kramlich
BrazenRock Grass Valley Nightshade - KYANNE
2nd Place 9-12 Months Puppy Sweepstakes 1st Place Bred By Exhibitor Class
Owners: Mike & Holly Witzel, Dianne Kramlich
BrazenRock Southern Comfort - THOMAS CH BrazenRock Causin' A Commotion JH - CAYANNE
2nd Place 9-12 Mos Sweepstakes & 3rd Place Regular 9-12 Mos Class Award of Merit
Owners: Bob Steele, Dianne Kramich, Jenna Iacobellis Owners: Fred & Linda Hachtel, Jenna Iacobellis, Dianne Kramlich
Am/Intl CH BrazenRock Vidam Tars Vadasz JH - TONNA BrazenRock Blue Nose Best - CALEB
1st Place Brood Bitch Caleb gaiting handsomely in Bred By Exhibitor Class
Owners: Dr. Christina Frazier, Judy Johnson, Dianne Kramlich
Tonna with Thomas and Libby in Brood Bitch Class